Differences Between Server, Hosting, and Domain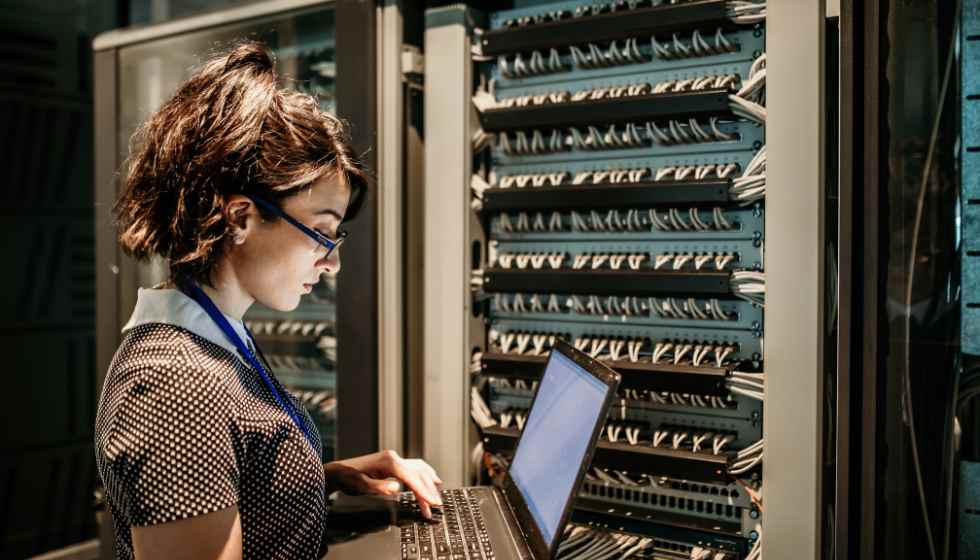 If you have a business or a personal brand in the 21st century, having an online presence is an essential requirement for success and, above all, for scaling your company and your benefits. 
However, if you are unfamiliar with the world of technology and the web, the universe of possibilities (and technical terms) can be overwhelming, as well as choosing the right services to host your website.
In this article, we will talk about Web Servers, Hostings, and Domains: what they are, how they are different, and why they are important for your presence on the Internet, and the best, in a way that we can all understand!
1. Server, Hosting, and Domain, the basis of online presence
Before creating a web page, it is essential to understand the difference between a server, hosting, and domain; they are basic concepts of an online presence to guarantee a safe, available, and accessible space at all times. Starting to develop your website without being clear about what type of hosting to choose or what domain to use would be like starting the house from the roof. These three components depend on each other and are interrelated; they work together, so your vision of them must be global, but knowing their differences, let's get to it!
2. Web servers: definition
Web servers are nothing more than computers that are used to store and transmit files and data over the Internet. These machines are in charge of receiving, processing and sending information requests from web browsers such as Chrome, Firefox, or Safari, among many others. Web servers are the hub of the network, the place where websites are stored and made accessible to the general public.
3. Hostings: definition, types, and advantages
Hosting is a space within a server where you store your website and all its related data; without hosting, your website would not be accessible from the Internet. Within a server (which is physical, the computer itself), several hostings cannot be tangible; they are virtual spaces.
3.1 Types of web hosting
Different types of hosting can be used depending on the type of website and the amount of traffic it receives. Some of the most common types of hosting are:
Shared Hosting: Shared hosting is where multiple websites share the same hardware and software resources. This means that resources such as RAM and storage space are divided between the different websites hosted on the server. Shared hosting is a cheap and convenient option for small to medium-sized websites that don't receive large amounts of traffic.
Dedicated, Own, or VPS Hosting: Dedicated hostings are those in which a website has exclusive access to all hardware and software resources. These hostings are ideal for large websites that require high performance and stability. Dedicated servers are more expensive than shared servers but offer more control and flexibility.
Cloud Hosting: Cloud hosting is a relatively new option that allows users to host their websites on a scalable cloud infrastructure. This means that resources can be adjusted on demand, resulting in high performance and stability. Cloud hosting is a good option for websites that experience fluctuating demand or have variable traffic.
3.2. Own or shared hosting, which web hosting to choose?
4. Web domains: definition, types, and tips for choosing it
The domain is the pillar of any web page. A domain is a unique name that identifies each space on the Internet. Its structure is divided into two parts: on the one hand, the name, which makes direct reference to the company, brand, or entity. On the other hand, the extension. The best known is .com, but there are many more which can refer to a geographical area (.es, .pt, .fr…) or the nature of the site:
.net for technology services
.gov for administrations
.org for nonprofits
.info for informative pages
.me for personal spaces like blogs
.tv for television services and platforms
4.1 How do domains work?
The function of the domains, in addition to giving a name to each web page, is to facilitate user access to these spaces and improve their user experience. In this way, the addresses become simpler and more memorable, and you can access the websites without having to enter the IP (numeric string) since the DNS is in charge of transforming the domain that we translate into the IP of the site.
4.2 Domain types
There are several types of domains with different characteristics and uses; you must know them so that you know which domain to choose when creating the website, depending on your type of business, where you operate from, or the information you want to give to the user.
Generic top-level domains: Top-level domains are the best known and most frequent since they are used worldwide; they indicate the type of activity or organization; for example, .com is a commercial place, and .org is a non-profit organization profit.
Geographic top-level domains: Geographic top-level domains are specific to a country or territory through which the area is identified, as mentioned above .in is from India, .ru Russia, and .pt from Portugal.
Third-Level Domains: Third-level domains are less common; they result from combining generic top-level domains and country code top-level domains. This way, the information provided is double the activity and location; for example, .com.in refers to a commercial.
Subdomains: Unlike the previous ones, the subdomain is located to the left of the web address and allows access to a special section of the entire web.
4.3. How to choose a good domain for your company or brand
Choosing a domain is one of the first steps to take when building your presence on the Internet. The domain will be the name associated with your company, brand, or product and by which it will be remembered. For this reason, it is worth investing time in thinking about and selecting the web address of your page, as well as checking its availability before starting to work on it.
Some of the tips that we propose to choose a good domain are the following:
Look for a simple and easy-to-remember name: Choose a name that is easy to pronounce and remember. Avoid complicated, long, or hard-to-spell names, as this could make it harder for users to remember and find your site. In general, it is sought that the domains do not exceed 15 characters.
Make it relevant: Try to choose a name that reflects the content or purpose of your website, the activity of your company, or the essence of your brand. Also, consult the different extensions and study which suits your activity best.
Check domain availability: Before deciding on a domain name, check if it is available. There are online tools that will help you do this. Some are GoDaddy, Nominalia, or Namecheap, although there are many more.
Consider SEO positioning: URLs are key points when positioning web pages, and it all starts with the domain. Look for a simple, intuitive domain that contains keywords for your activity and the user. Also, avoid using numbers and hyphens and bet on short names; on the one hand, you will be more SEO Friendly, and on the other, you will improve the user experience (UX).
Consider purchasing domain variations: This is a way to protect your brand against competitors. For example, despite registering techgogoal.com, other companies could register the same name under other extensions (techgogoal.in, techgogoal.info, etc.). Through a redirect, you will ensure that all traffic reaches your website.