Rank Math SEO VS Yoast SEO – Which is the Best Plugin for SEO?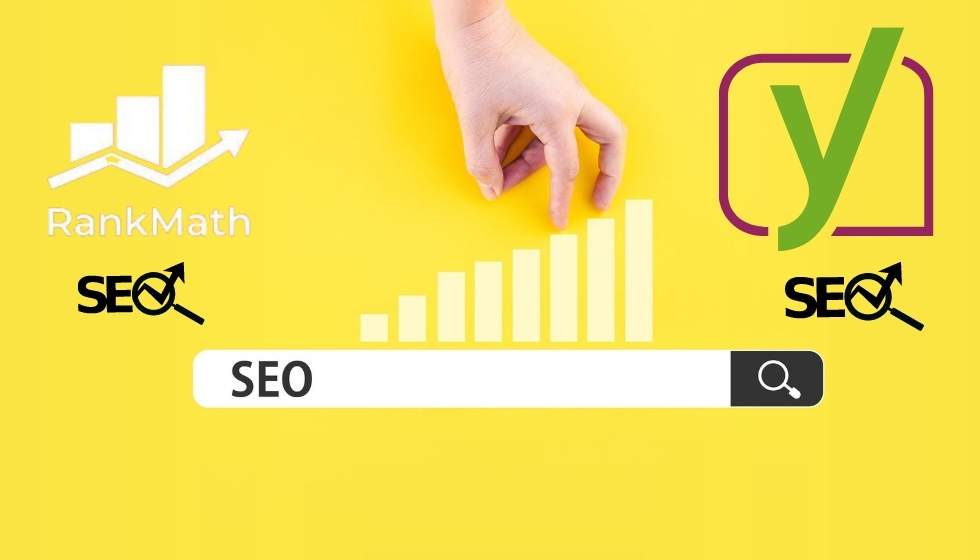 When it comes to SEO, many tasks are tedious and quite repetitive. We leave those tasks to SEO plugins to save us time, but now, two of these seem more attractive every day. Well, it was about time we made our comparison—Rank Math vs Yoast SEO.
Without proper search engine optimization (SEO), your website is unlikely to reach a large audience.
Until recently, Yoast SEO was the go-to SEO plugin for most users, with its helpful content tips and easy setup process.
Today, Rank Math is quickly establishing itself as the new SEO powerhouse, which may give you the question: How does Rank Math vs Yoast SEO compare?
If so, then you've probably come across the most popular SEO plugins for WordPress: Yoast, Rank Math, and All in One SEO. And it's highly possible that you feel a little overwhelmed when trying to figure out which one is better. But don't worry because today I will help you make your decision.
So, in this post, we will compare Yoast vs Rank Math vs All in One SEO and show you their main differences and where they balance out. And finally, we will see which of the three is the best SEO plugin for WordPress.
Rank Math SEO VS Yoast SEO
This is the million-dollar question, and considering that Rank Math has been around for almost a couple of years, it is standing up to Yoast to the level that many people doubt which one to use.
That is why we will give you a small comparison of the functionalities that Rank Math incorporates, if Yoast also has them, and in what version.
What is Rank Math
Rank Math is also an SEO plugin for WordPress, although in this case, it is a much younger one since it was launched in 2018.
Its team of developers are some of the hands of MyThemeShop, the renowned WordPress template store.
In just over a year, Rank Math has taken second place in terms of SEO plugins, and that has been with the help of its advanced and much more open functions even in its free section, which exceeds and by a lot to other competitors like All in One SEO Pack or Yoast SEO.
What is Yoast SEO
Yoast SEO is an SEO plugin for WordPress launched in 2010 by Joost de Valk, an SEO consultant until he started creating this plugin.
Without a doubt, Yoast is a benchmark in the world of organic positioning, and not for nothing has it managed to remain the most popular plugin to this day, including excellent functions even in the free version.
It is one of the most popular plugins in the WordPress store, and it has pretty exciting functions for automating SEO Strategy tasks.
Both tools are suitable for users with any level of experience. Even if you are a beginner, you should have no problem following the tips provided and optimizing your posts for your main keywords. However, if you want to delve into your site's SEO, you'll find that Rank Math has far more options than its competitor.
What are the differences between these plugins?
Now that we've introduced both tools let's see how they compare.
Installation
One of the things that I have always liked the most about Yoast SEO is that it has an excellent assistant. Well, it seems that the team behind Rank Math has learned this and has made a decent wizard very easy to use.
Integrated functions
Yoast SEO and Rank Math have practically the same built-in functions, although it is true that Yoast is a bit more occult in its free version.
Content analysis
How both plugins process the content to improve it is pretty similar, and both are based on the same number of factors.
However, even if you write the same content and focus on the exact keywords, the two plugins will not return the same results. Rank Math is a bit more rigid with the returned results.
Optimization of keywords
Any SEO plugin should optimize your pages for a focus keyword. Both Rank Math and Yoast SEO do it well.
Rank Math allows you to assign five keywords to your posts by default. However, you can quickly increase this number until you have unlimited keywords by using a filter that you can add to your page editor.
Yoast SEO allows you to optimize your posts for just one keyword or up to five if you buy the Pro version. While adding more keywords isn't necessary for SEO
Indexing
Both Yoast and Rank Math indeed have functions to help us control what we want to show Google and whatnot. To some extent, they are very similar in this regard.
Ease of use
Both Rank Math and Yoast SEO are intuitive and straightforward to set up. They provide interactive procedures that guide the user through each step.
However, Rank Math has two modes: easy and advanced. The former is helpful for beginners, who may find all the settings too complicated. Rank Math will do all the work for you and apply its default options.